ExL Thermocouples insulated with Mi-Dry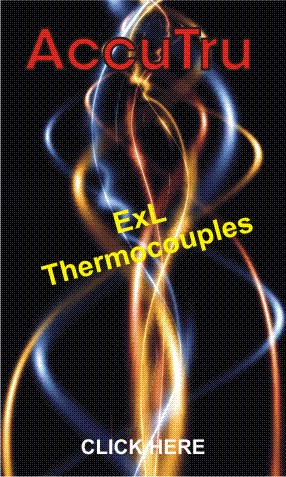 AccuTru's unique ExL thermocouples are manufactured using a new ceramic insulation material called MI-DryTM in place of commonly used Magnesium Oxide (MgO). Rigorous tests and extensive customer installations show that AccuTru's ExL line of thermocouples provide superior performance.
AccuTru's MI-Dry material is a new proprietary dielectric compound that is an inert, powdered ceramic insulant with the same MSDS properties as MgO but with significantly improved characteristics in areas critical to high temperature measurement in process control.
Benefits of ExL Sensors made with MI-Dry:
Some high temperature thermocouples that use platinum elements, may utilize ExL sensors instead, providing significant savings on initial up-front costs.
MI-Dry is non-hygroscopic and does not trap moisture, which plagues MgO users, leading to shunting, shortened life, and erroneous readings.