AccuTru Resistance Temperature Devices made with MI-Dry®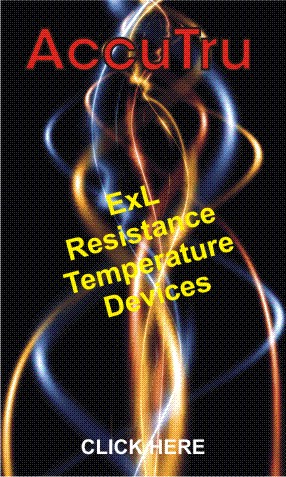 Resistance Temperature Devices (RTDs) are an alternative to thermocouples for temperature measurement in the range from ambient to 600°C or 700°C (1112 - 1282°F). The RTD uses a small platinum element in the tip of the sensor that measures temperature by the change in the resistance of the element created by heat.
The primary advantage of the RTD over thermocouples is the accuracy of the reading. The error limits are much smaller as compared to thermocouples (0.3 or 0.7 degrees at 100°C for the RTD and 1.1°C for the thermocouple. However, this advantage is balanced by some limitations. As noted, the upper temperature range is about 1/2 that of a thermocouple. In addition, the response time of an RTD is slower than a thermocouple if that is critical to your operation. The third limitation is that RTDs are very suceptible to damage from vibration or being dropped.
AccuTru RTDs use the 385 curbe which meets IEC751 tolerances. All RTDs are manufactured using wire wound bulbs. Thin film RTDs are available upon request. All AccuTru RTDs are manufactured using AccuTru's MI-Dry mineral insulation, providing improved performance and longer life.